It's Derby time!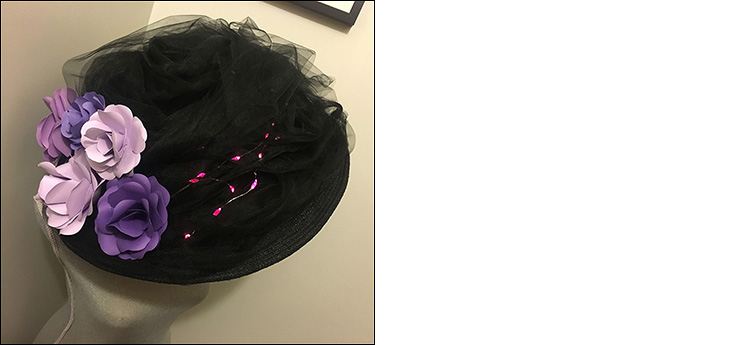 I never knew that I loved horse racing. That's probably because I don't…what I do love is getting all crafty to make a ridiculous hat for a chance to win some serious swag from one of my favorite spots in Somerville. This is the fourth year of the Kentucky Derby party at Five Horses in Davis Square, so I am going to show you the hats that I created to participate in the contests each year… and since I remembered to take some in-progress shots, I am going to do another post showing how I put this year's winning hat (fingers crossed!!)
Year 1
This is the first hat that I made. In full disclosure, it was a frantic trip to Michael's the morning of to get supplies. I had in my head what I wanted to do, but how to do it?? I also have this insane idea that I was going to reuse the hat next year, so I didn't want to permanently attach anything which made it much harder to be honest. And, ironically, I still have not reused that hat.
I don't have a lot of pictures from the first year as I didn't know what to expect. The other thing I found out was how DARK it is in Five Horses which definitely inspired my next concoction.
Shine brightly, as only neon can!
I started with a really cool fascinator that I found on Amazon for short money ($14?) I wanted something really frilly that could support my bright idea of glow sticks. I tested out different methods of attaching the sticks, but using tiny bits of string and coloring them black when they showed against the fascinator seemed to be the easiest to do. This hat was risky in general because obviously, I had to snap the sticks to activate the glow before I put them on the hat, so again… frantic construction the morning of the Derby. I have no idea how long glow sticks generally last (something I probably should have tested out, in hindsight), but I was hoping to at least get through the length of the party, including the race, transportation and construction time. I had extras in my bag just in case, but who the hell wants to start crafting at a bar when there's mint juleps to enjoy? The one major flaw in my design was that I did NOT account for the extra weight that the glow sticks added to the fascinator. When worn by itself, its fairly weightless and therefore fairly comfortable. Once it was complete in its glowing glory, it was pretty heavy and definitely off balance. I had to tilt my head at a weird angle to keep the hat on while enjoying the juleps. I should have seen that one coming.
That year the contest was based on audience applause and as returning champion, I went first. I guess my group of friends didn't know how loud they had to scream as this other girl won first prize. Which was fine until she loudly announced that she couldn't believe that she just pinned a flower onto a bar swag hat 10 minutes ago while the rest of us actually tried and that her friends are just really loud. I felt bad for the everyone else that competed because all of our hats definitely took a lot of thought and planning to execute and this girl is the one that got rewarded.
But I wasn't going to let this girl ruin my day. Since it was still glowing, I wore my neon sculpture around the rest of the night. I looked like I belonged in the Disney Illuminations parade, but I didn't care. It was so much fun to pass the hat around and take pictures of my friends (mostly the guys) as well as random strangers wearing the hat and striking some crazy poses. I wish I could post a few of those, but I need to ask permission first!
Flower power
I guess my next hat is a little more traditional as it had a floral theme. For some reason, I really don't like fake flowers, but I love flowers made from other things like ribbon, paper, wood, lace… whatever. So I put my Silhouette Cameo to good use to cut out a bunch of different flower templates and got to work. The one thing I remembered from my first hat was that it was really weird to sit around all day with this overwhelming black brim floating in eyesight, so I decided to start by painting the underside of the hat a different color. I wanted to put a flower underneath the brim, so the different color would would really make that flower pop. I am a creature of monotone. I love using similar colors together, I think it adds a level of sophistication. I decided on lilac/lavender as my chosen color scheme.
Once I had the flowers on the hat, I decided that wasn't enough. I also decided that it needed lights (of course). I have some battery operated fairy lights but I needed a way to attach the battery to the hat. I actually used one of those wrist wallet things (black of course) and put the battery packs in the pockets. I then used black tulle and slipped it through the wrist hole and then just wrapped the base of the hat and tied it. Again, I was trying not to permanently damage the hat, but this really worked out. I hadn't thought of using tulle in the final hat design, but since I had a boat load of it from a failed attempt at making a tulle skirt, I figured, why not? It was the kind that are in fairly wide strips, so I just started layering it around the brim of the hat and weaving the fairy lights into it. I decided that the white lights, although tiny, were kind of jarring. So another trip to Michael's to find purple-ish washi tape to cover the lights. I think it adds to the monotone feel. Again, nothing was really attached to the hat, so I decided to use hairspray. Yes, hairspray to keep the tulle intact. Which worked out great until a friend wanted to try it on and when she handed it back to me, it all fell apart… luckily, right after the judging was complete.
This time, I did consider the weight of the battery pack, I didn't consider sitting there wearing it the entire time. My neck killed the next day, plus again… the design was asymmetrical, so awkward tilted head for most of the day. But it was worth it because I reclaimed my first place status! This year, the voting was done by ballot complete with a awkward parade around the bar. (Thankfully, I didn't see the girl from last year at all!)
And what did I win, you might ask? Well $100 in cash, 2 kick-ass seats to a Red Sox game, a bottle of wine, a bottle of Four Roses Bourbon, a couple of bar t-shirts, a nice water bottle, 2 copper cups for fancy drinks and a trucker hat, all packed up in this sweet metal cooler (with a bottle opener) that's perfect for our backyard.
Light as a feather…
I think after the last 2 years of being fairly uncomfortable, the idea of using feathers was a no brainer. I ordered a bunch online and found some tutorials on how to make feathers into a flower. I bought the brightest colored feathers I could find at Michael's, hoping that they would match the dress I was planning on wearing. Not only did those feathers not really match, neither did the ones I ordered from Amazon and Etsy. Sad. Tomorrow is the derby, so I am going to try everything on together to see if it works, but I have whole closet of Plan B in the way of plain black dresses.
Want to see how I made this hat? Check it out here!
[Update: The judging was done by an independent party and I got second! Lots of good bar swag and a magnum of Prosecco… I guess it's time to throw a brunch party!]