How does your garden grow?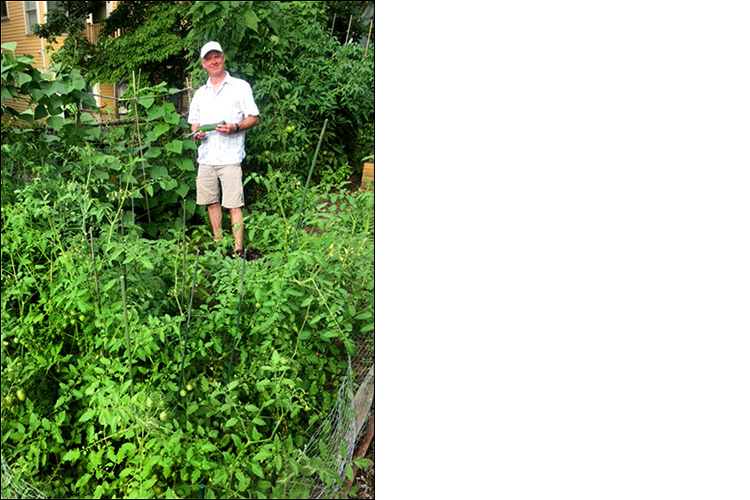 Apparently Greg's grows great! This garden is, no lie, 7 years in the making…as in, he finally got a plot through the Somerville Community Garden program. He was able to garden in our yard until the neighbor's tree eventually blocked out the sun, so he signed up for the list our second year in Somerville. We always would walk by these plots off of the Bike Path and noticed that some of them didn't appear that they were being used over the years. We ran into a fellow dog owner working on her plot and asked her about the mysterious waiting list. She was surprised that Greg had been waiting so long and took down his information. A few weeks later, Greg is up to his eyeballs in seedlings and compost!
He keeps saying that this was a panic planting as he didn't know he was going to get a spot until late in the season, but I think it's a pretty good first year! He originally started seedlings in the hydroponic system at home but the rabbits made short work of the baby plants before he put up the fencing around his plot. He originally had Thai chilis, Shishito peppers, Jalapeño peppers, Cilantro (soap. yuck), Shiso leaf, Daikon radishes, Purple Carrots, Spinach and Cress. Oddly enough, one of the few things to survive the bunnies was the carrots… as Greg said, don't they watch cartoons?
After he put up the fence, you can see he added about 18 tomato plants (Cherry, Roma and Beefsteak!), a boat load of Basil, both Italian and Thai, the purple Shiso leaves that he uses with fish, Thai chili, Shishito and Jalapeño peppers (which were blocked by the tomatoes until he moved them… cross your fingers!) The back trellis has pole beans on the left and  cucumbers on the right
Anyway, we are just beginning to see the 'vegetables' of his labor. I can't believe how many cucumbers we have gotten so far (with more to come) even though many of the other veteran gardeners said they had not been successful with cucumbers in their plots. We have picked about 20 or so? Making fast friends with our neighbors as we deliver them around! We even picked our first cherry tomatoes of the season this week!
---
I took some pictures of some of the other plots in the Bike Way Garden. I love seeing what other people are growing. And if you're lucky, they are willing to trade the fresh produce that they grew so you won't get so sick of cucumbers!
---
I think this is such a cool thing for the city to do and I hope they do it in more spots around the city.  Click here for more information about the program if any locals are interested. (You have to be a resident of Somerville.) And here's a map of the existing plots. community-garden-map
And let me know if you want some cucumbers, we have some extras!