Friendsgiving Table 2018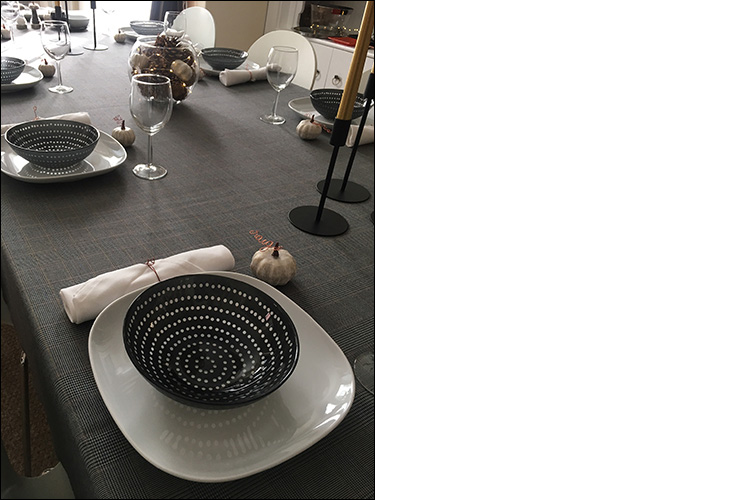 So this year, I challenged myself to put on Friendsgiving only spending $100… Given that I decided to make like 15 things, that meant my decor budget was tiny. I decided to reuse my favorite tablecloth which is really suit fabric-by-the-yard because my table is so ginormous that I have never found a tablecloth that would fit. But I pride myself on always doing something a little bit different for centerpieces and placecards, so that's where I spent my $15 decor budget.
From there, I reused a fishbowl for the centerpiece with pinecones, tiny pumpkins + twinkle lights. Now onto the candles… I looked at the stash that I had and realized I didn't have enough of any one color for any of my candlestick sets. I decided to use these cool black holders that I bought years ago because they would go with the black and white dotted dishes. I am overjoyed to report that a Target has opened up within walking distance of my house. So lovely and yet, so dangerous! I am sad to report that the Target's selection of taper candles was not good, as in chalky colors that would not work on my scheme at all… I am also overjoyed to report that there's a Michael's right next to the Target. I went in to see what they had and stumbled upon some really cool gold tapers in a package of 12 for $12. Perfect. I then found a 50% off coupon on my phone, even better! But the coupon wouldn't go through. The staff said it was because it wasn't a 'everyday item', whatever the hell that means. The coupon said 50% off any regular item. The guy was nice enough to put the coupon in manually, so I walked out with my fancy candles for $6 (potentially enough for 2 holidays!). I was so excited, I took myself out to lunch.
All in all, I would say that liked my table set up this year and I definitely managed to stay under budget (at least for the decor portion.) The meal was also a success given the photos of the aftermath…
What do you think of this decor on a dime?